At multippl we value everyones privacy. We want to create a community where everyone feels safe, so to make sure bots or imposters don't join, we require everyone to complete their profile. Embrace and be proud of who you are!
---
By completing your profile you will have full free access to the site: share your stories, comment on posts and follow other members of the Mixed Ethnicity World.
How to complete your profile:
To complete your profile please do the following on Your Profile:
1. Click on the cog icon to the right of your profile
2. Next click on 'Edit Profile'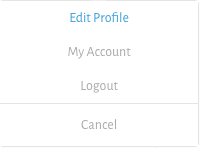 3. Start completing your Profile
Add a profile photo

Add your gender

Add your date of birth

Add where you currently reside

Add the languages you speak

Add your fathers ethnicity

Add your mothers ethnicity

Add your mix

Add a bio
To easily connect with people like you, we require you to include your mix, your parents mix, the languages you speak and where you reside.*
* Don't worry if you don't feel comfortable telling us some information. We have 'Prefer not to say' for more sensitive information.