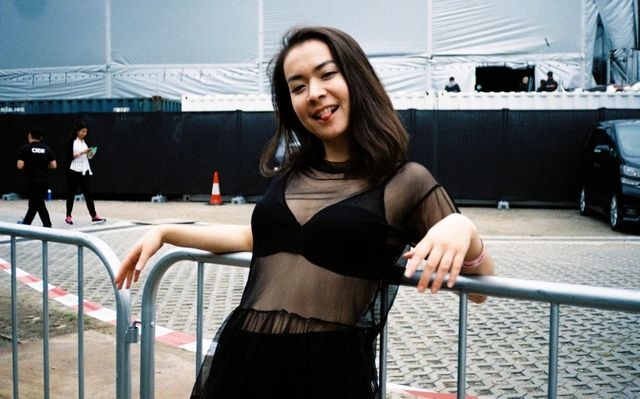 Mitski

– half Japanese half American singer/songwriter

Mitski Miyawaki, famously called Mitski, is an artist who has become of increasing popularity recently with the resurgence of more feminine styles of mixed genre alt music. 
Born in New York to an American father and Japanese mother, Mitski has described her cultural identity as "half Japanese, half American but not fully either", seemingly alluding to feelings of displacement which are also referenced within her music.
Although this could be a matter of interpretation, as someone who is half Asian, I'd like to think this was the case as it's something I personally relate to.
It serves as a nice reminder that music holds such power; not with just the creator's meanings, but also each individual listener's interpretation.
If you're new to Mitski, I'd personally describe her as stylistically feeling somewhat comparable to a Kate Bush/Lorde hybrid, although she leans more into indie-rock/pop, she is truly a refreshing and fun addition to the alternative music scene.
Despite announcing her retirement from the music industry after releasing her hit album 'Be the Cowboy' in 2018, Mitski promised her fans that she was not quitting music altogether. It seems as though she is on edge about her place within the industry.
However, her earlier releases have not lost momentum. Correlated with the new wave of Gen-Z and Millennial interest in alternative lifestyle and spirituality, her songs have been re-popularised by TikTok. Most notably, 'Nobody' has blown-up by becoming the soundtrack of a viral trend on the hugely popular social media platform. This may have also contributed to her resurgence.
In an exciting turn of events, today (5 October 2021), Mitski released a new single, 'Working for the Knife'.
'Working for the Knife' is a song that stylistically hasn't strayed too far from Mitski's older releases, but feels much more confident. She's upped the ante with her slow rock flare given to us via guitar, while the synth melodies have rooted her signature feminine and eerie style.
The vocals and lyricism however are what I really love. Raw, honest and very powerful. In an almost Amy Winehouse-esque, 'say what you're thinking' type of writing.
In 'Working for the Knife', Mitski sings about adult life, tireless work and the hopeless estrangement from hopes and dreams. Needless to say, it all works beautifully together in what might easily become my favourite Mitski song yet!
Here are some personal favourites from MITSKI's FULL DISCOGRAPHY:
1. I Bet on Losing Dogs
A key listen if you want to get into Mitski. A fairly classic alt-rock song, with her signature introspective lyricism and beautifully eerie (or eerily beautiful) vocals.
2. First Love/Late Spring
Technically complex, whilst not being too complicated to listen to easily. A rabbit hole many alt and/or independent artists fall into, perhaps under the pressure to impress. This song is a good summary of Mitski's earlier release style. Electric guitar instrumentals, synth melodies, doubled/choir-effect vocals and distortion. My personal favourite Mitski song.
That's all for now! Until November!
Sayonara, God bless, peace be with you.<3