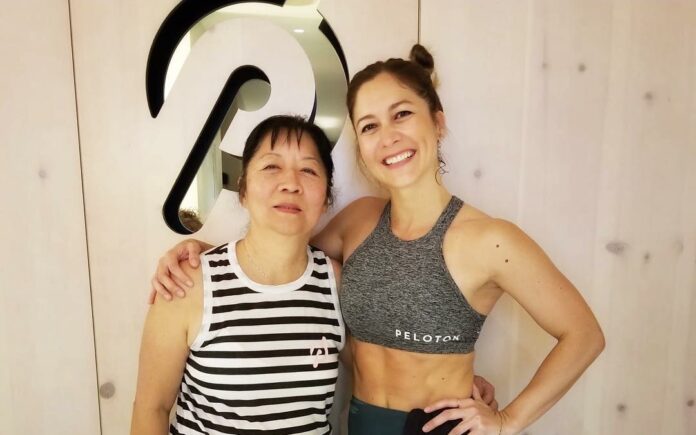 Emma Lovewell is a half Taiwanese, half English Peloton instructor. Originally from Martha's Vineyard, Massachusetts, Lovewell graduated from the University of Massachusetts Amherst with an honours degree in Chinese and Mass Communication.
Lovewell has an impressive CV. She moved to New York City to be a professional dancer and has performed alongside artists including Bjork and the Rolling Stones. She is a fitness model and personal trainer and explains that her passion for teaching fitness comes from her love of music and movement, and her belief: "Workout because you love your body, not because you hate it."
COVID-19 has changed our lives in ways many of us would have thought impossible two years ago. We've lived through successive lockdowns (as much as 57% of the global population is estimated to have been living under a full or partial lockdown restriction on 5 April 2020) and watched as shops, restaurants, leisure and hospitality venues shut their doors to help stop the spread.
Lockdown meant we were all confined to our homes and we had to live slightly differently. For the one in seven Brits who have a gym membership, this meant a swap to home and outdoor workouts.
Digital fitness has boomed during the pandemic. US-based company Peloton, which offers high-end treadmills and exercise bikes and access to live and on-demand instructor-led sessions, saw sales rocket in locked down areas: sales in the first-quarter of 2020 more than tripled and users completed 90 million workouts July-September 2020.
Peloton's success borrows from the model of boutique fitness: small, intimate classes led by part-instructor, part-spiritual advisor, and Emma Lovewell is one such instructor.
Lovewell has written about her experiences as a 'white-passing' half Asian woman.
"I have been told by many people throughout my life that I 'don't really look Asian.'", she writes. "This, interestingly enough, has put me in many situations where people say racist things towards Asians in front of me, thinking that I'm either 100% white and/or that I'll find their ignorant comments funny.
"A question I've been asked many times before: 'Well, do you feel more white or Asian?' And the answer is both. My journey of finding my identity really began in college, and I am still learning."
Speaking about growing up in Martha's Vineyard, Lovewell explains:
"I grew up in a mostly white neighborhood with a minority mother. I know that was challenging for my mom, although I didn't realize it as a kid. She didn't have any of her family nearby and there wasn't anyone else in the community who came from a similar culture. As a kid, I remember feeling like an outsider on occasion.
"Not all the time, but I'd feel it especially around lunch time when my classmates would ask questions about the unfamiliar Chinese food I brought to school. I'd get frustrated when my mom often couldn't remember my friends' names. I remember wondering why the other moms were so affectionate with hugs and kisses, but my mom never hugged my friends.
"There were definitely times as a kid that I felt embarrassed about my culture. It's taken some time but now I love where I come from, and I am especially proud of my mom. I truly think of her as a superhero.
"Raising kids is hard enough, but to do it in an environment with little support from family while feeling like an outcast must have been so much harder. I see her resilience and her courage especially after my parents separated and she chose to stay in our town despite all of the obvious challenges."
Lovewell is an advocate for Asian rights and has used her platform to speak about the COVID-19 Hate Crimes Act, which was passed in the USA earlier this year:
"I have been vocal about anti-Asian hate — in my conversations, on social media, and even in a couple of my cycling classes — so when I was asked to lobby for the COVID-19 Hate Crimes Act on Capitol Hill, I proudly took the opportunity. I was instructed to share my story and speak from the heart. I shared my concern for my mother's safety, and the need for greater measures to ensure protection for all Asian communities across the country. These meetings were short, but I was met with humanity. And I can happily say that the COVID-19 Hate Crimes Act was overwhelmingly passed with 364 votes for and only 62 votes against the bill, and is now a law.
"Today I am proud to be Asian. I am a senior Peloton instructor teaching fitness to millions of people globally. I share my story in hopes of inspiring and bringing people together."
You can read Lovewell's whole article on Medium and listen to her discuss Peloton, fitness, and her half Asian experience in this Spotify podcast.