In 2015, a Tweet went viral that genuinely changed my life. It shaped the way I viewed fashion, I changed my hairstyle numerous times because of it, and it certainly made me aware of a realm I had never known. I am talking about the release of 'It G Ma' – featuring Kohh. A song I have probably listened to over 200 times.
I can't remember exactly how I found the Tweet, but I think a couple people on Twitter had talked about 'the hardest Japanese bar' they'd ever heard and for a while Kohh's verse where he says 'ARIGATO' was everywhere on my social media timeline. The 'It G Ma' video was released 1 January 2015, when I was 17 years old, and it was the first time I heard Japanese and Korean hip-hop/rap.
11. Kohh. Japanese trap rapper. I don't understand what he's saying 98% of the time, but he still snaps. FIRE BEATS. pic.twitter.com/86I9MXCVkH

— grimey ❗️ (@denimbwoy) June 26, 2016
More importantly, it was the first time I heard Kohh, a half Korean, half Japanese rapper born in Oji, Tokyo. He instantly became my favourite artist. I would spend hour upon hour listening to his albums, looking up his lyrics and would follow his fashion sense.
Kohh rapped in Japanese but generally didn't use complex vocabulary; his flow was easy to follow, and he occasionally used English words. It was perfect for my level of Japanese. I could easily listen to his songs and sing along. He even featured American rapper J $tash in several of his early songs. Although his music was unrepresentative of mainstream Japanese music, as a guy born and raised in London growing up listening to genres like Grime and Rap, Kohh was exactly what I was looking for.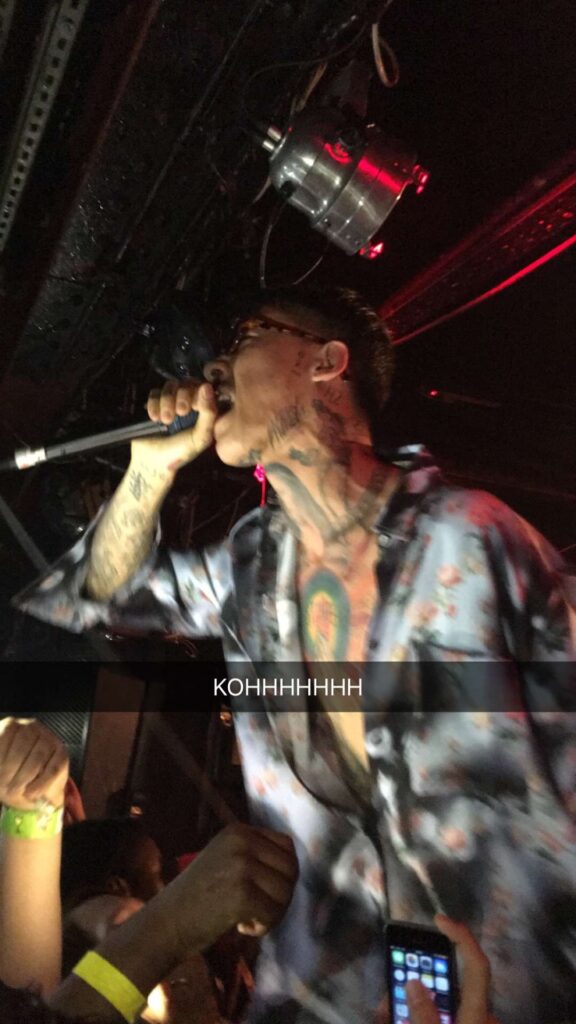 His music was a breath of fresh air for me. I wanted to enjoy Japanese pop culture, but J-pop, Anime and Manga (to name a few) didn't really interest me. Kohh and his music opened me up to a new world. He epitomised a subculture I was unaware of, and helped me through my angsty teenage years.
Although I didn't grow up in Japan, I always felt very attached to it, so that's perhaps why I related so closely to Kohh.
Kohh was my inspiration in many ways. His eclectic discography has very real and diverse lyrics, mainly positive. He tells people to live a life that they enjoy, not to worry about what others think, or to chase paper because ultimately, all humans end up six feet under – like in 'Yarudake'.
In some songs, like my personal favourite 'Binbounantekinishinai', he talks about the importance of the people around you and relying on your friends when you need them. Also, to enjoy being with them when you're living your best life. In 'Shako', Kohh talks about the societal issues in Japan and the vices of money, drugs and sex. Kohh has always been very honest in his lyrics about his difficult upbringing in songs like 'Kazoku' and is proud of where he has come from, as in 'Kekkyoku Jimoto'.
The outlook on life and values portrayed in Kohh's lyrics definitely helped me growing up, when at times I didn't know where I fitted in as a half Japanese, half British guy born and raised in London. In hindsight, that's why I admired him so much: his arty music videos influenced my enthusiasm for contemporary art and his references to fashion, as well as his style, shaped my interest in hypebeast fashion and Japanese designer brands such as Y3, BAPE, APC.
Just before he released his third album 'DIRT' in 2015, Kohh released the 'Dirt Boys' MV. During the video, Kohh is seen with long, dyed-blue hair. As soon as I saw it, I wanted it. I wanted to grow my hair out and dye it. So, for the next year, I grew my hair out and eventually dyed it silver. Bape and Comme des Garcons became my favourite brands because of his music.
Even though we lived very different lives in two completely different cities, Kohh opened a different part of my Japanese side that wasn't influenced by my mum.
Listening to his music also helped to improve my Japanese, as I tried to sing along to his songs.
Although Kohh is half Korean and half Japanese, he describes himself as Japanese because he never really knew his father, who died when he was two years old. Nevertheless, in 'Kazoku' Kohh explains that his stage name 'Kohh' derives from his Korean father: Kou Tatsuro. I think that's dope.